Elevate your dealership's search visibility with the industry's premier SEO service.
There's no shortcut to the top of the search results pages. Dealers who embrace SEO as part of a holistic digital strategy centered on engaging, high-impact content will garner the greatest search engine visibility, and the traffic and leads that follow.
Dealer.com SEO is more than a service. It's a strategic partnership. Our teams work with each dealer to understand their specific goals, and draw upon industry-leading search engine expertise, market-leading data, our end-to-end technology platform, and the industry's largest team of automotive SEO professionals. The results are proven: You'll enjoy enhanced visibility and significantly elevated website engagement and leadflow – all delivered with maximum efficiency.
For a demonstration of our capabilities or a consultation, please contact us at 888.717.9390.
Compare Packages
Enroll
LEARN MORE
---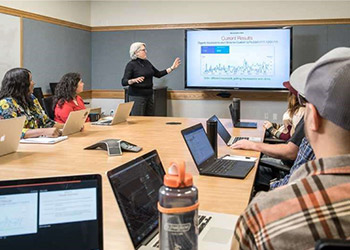 Expert Interdisciplinary Teams
Our 100+ member team of Strategists, Specialists and Copy-writers combine an unmatched SEO IQ with a total auto-industry focus and the power of the industry's leading technology platform and immediately implement SEO strategies that exceed your goals and enhance your overall dealership visibility. They work alongside Campaign Coordinators, Social Media Strategists and Digital Strategists to incorporate SEO into a complete digital strategy.
---
Comprehensive SEO Strategy
Our professionals leverage the combined expertise of the industry's largest collection of automotive shopper data, aligning your particular goals with ironclad, proven content strategies. This combination of SEO mastery and automotive shopper data is unmatched in the industry. To ensure your inventory consistently reaches likely buyers, SEO teams optimize for local reach. Content strategies vary by dealership and include custom content designed to help connect local buyers to your dealership, such as including blog posts, news articles, new make/model pages, and other specific dealership informational resources. The approach is proven to elevate performance across your digital strategy, including higher rankings across the search engines, increased visits to your website and more leads from qualified visitors.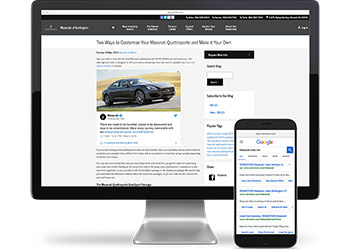 ---
Insights and Reporting
From market and keyword research to transparent SEO reporting and expert insights, we provide all of the resources you need to understand your SEO performance. We deliver comprehensive reports that complement program-wide Dealer.com analytics for total digital visibility. Recurring strategy calls ensure your SEO investment consistently accomplishes your goals, and results are compiled into comprehensive reports tailored to your specific car dealership SEO strategy.
---
Proven results.
Our SEO partnership is proven. In a Dealer.com Premium SEO Performance Study, we looked at the average lift in KPI's for our Premium SEO package and found, on average, the following benefits after just 1 year on the service:
+28% Quality Visits*
+26% VDP Views*
+44% More Leads*
Source: Dealer.com Internal Data, July 2017 comparing 3,425 Franchise dealerships in US. Inventory levels between 100–200 vehicles in stock. Minimum threshold of 50 Visits, Quality Visits and VDPs.