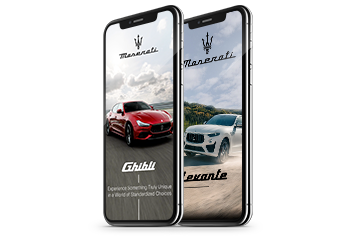 Elite Digital Offering Engaging Customers Ready to Buy
While most agencies produce 3-5 social ads max for their clients, Constellation runs an average of 30-50 social ads per month for each dealer client and is able to launch these in only a few days.
Constellation Agency is an elite digital marketing offering for the automotive industry, designed to help dealers connect the dots between targets, creative & ROI. Quality is our business, customer service is our focus, and the opportunity to lend our creative digital talents to your dealership to conquest aligns with our own personal philosophy to deliver Tier 1 quality to Tier 3 dealers.
Constellation pairs stunning creative design with privileged data to locate your ideal customer online, reaching the right people, with the right message, at the right time on the right channel. We offer a wide variety of services in the digital space including, but not limited to, Paid Social, Multicultural Campaigns, Corporate Campaigns, Landing Page Design, Dealership Branding Shoots, SEM, Display, Pre-Roll, Connected TV, and Creative Design.
Compare Packages
Enroll
LEARN MORE
DEMO VIDEO
---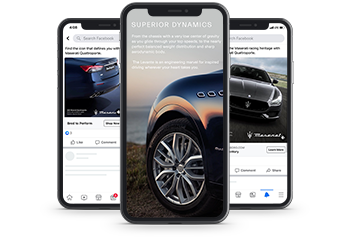 BRINGING TIER 1 QUALITY CREATIVE TO TIER 3.
Our in-house creative team produces beautiful creative content for all the latest ad formats, including full-screen canvas ads, collection ads that feature your inventory, motion ads, video, and carousels. We ensure our ads are thumb-stopping in a way that embraces modern consumers need for novel, interactive experiences online.
---
HYPERTARGETING THAT REACHES NEW AUDIENCES
Our team researches the demographic makeup of your area and targets specific audiences around your dealership. We design our ads to target non-English speakers in their own language whether it be Chinese, Spanish, or Korean. Our corporate ads target employees of local businesses with customized messaging and offers, furthering your dealership's partnerships in the community.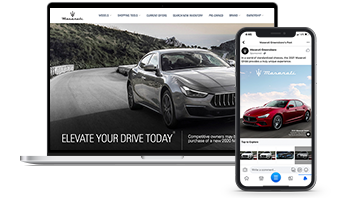 ---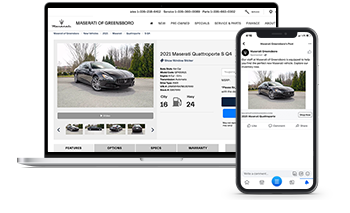 DYNAMIC RETARGETING ON SOCIAL
You may have noticed products you've shopped for follow you in advertisements across the web. We offer dynamic retargeting for social, which retargets visitors to your website with the very car, or cars, they viewed in your inventory. This VIN-level retargeting is made possible by our custom inventory solution, so we can seamlessly engage potential customers without having to integrate with your inventory provider.
---
LANGUAGE-BASED DIGITAL STRATEGIES
We offer social, SEM and display campaigns with custom creative in the languages that comprise your community. Our multilingual search results drive traffic to our language landing pages on your website, where we can then retarget them on social. If your area has a large demographic of Spanish, Korean, Chinese, or any other non-English speakers, our ethnic campaigns are the perfect way to position your dealership as the clear choice for these potential customers.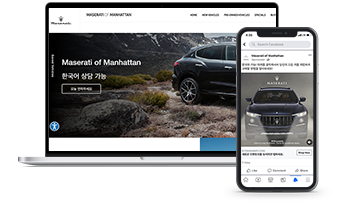 ---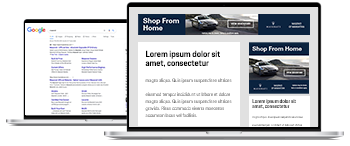 ADVANCED SEM AND DISPLAY CAPABILITIES
We leverage machine learning optimization software such as algorithmic bidding that will provide a strong basis for our campaign managers to then be able to manually finetune, combining the best of both worlds for a more impactful result. We are ad copy obsessed, and we do A/B split testing of ad copy weekly.
---
CREATIVE ASSET MANAGEMENT
Use the power of our proprietary technology to generate brand-compliant incentive based creative assets for Facebook, Instagram, Google Display advertising email blasts, and website banners. Beautiful ad design is more important than ever in order to get consumers' attention. We're experienced in developing compelling creative content that tells your story in an authentic and engaging way.
---
SEARCH ENGINE OPTIMIZATION
SEO plays a major part in a wholistic approach to digital marketing. Our technical SEO experts will identify and resolve any technical errors that are hindering your site's ability to rank on the major search engines including updating missing meta tag title and descriptions, header tags, and URL Structure Evaluation. Citation management, backlinking, internal link management, Google My Business management, tracking, reporting, advanced website optimizations, website content creation, editing & optimizations are also available.
---
MEASURING YOUR RESULTS
View your social, search and display campaign metrics with our live, interactive dashboard. Our dashboard provides demographic, device, and gender breakdowns as well as results from specific campaigns, such as language and corporate. We also offer metrics at the VIN level, so you can view which vehicles in your inventory performed the best with our dynamic ads to measure ROI.