We're Conversion Focused
Simply getting traffic to your website isn't sufficient. We deliver conversions to help you sell and service more Maserati vehicles. Our proprietary technology, coupled with best-in-class service offered by digital automotive experts, helps position you at the forefront. Elevate SEO, optimize PPC, fortify your website, build audiences and re-engage with your anonymous traffic, and maximize social media ROI.
With in-house creative resources, 24/7 support, and proven success, CF Search Marketing is your key to success.
Compare Packages
Enroll
---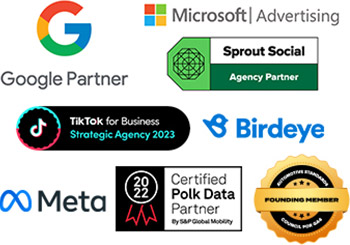 HIGHLY CERTIFIED TEAM OF EXPERTS
Discover the winning edge with CF Search Marketing. Drive your success with our expert team and exceptional partnerships. We proudly collaborate with industry giants like Google, Microsoft, Meta, Birdeye, TikTok, Sprout, S&P Global, and as founding members of the Automotive Standards Council, we set the standard for excellence in the digital landscape.
---
Paid Search & Display
Our Search Engine Marketing (SEM) and Display campaigns cover a diverse spectrum, spanning from new and used offerings to fixed operations ensuring a comprehensive approach that caters to various aspects of your business. At the core of our philosophy lies a commitment to unwavering transparency, providing you with complete visibility into the intricacies of your campaigns. Experience the distinct advantage of remarkably low CPCs and CPAs, optimizing your budget for optimal returns. Our strategy is enhanced by dynamic landing pages, dynamic inventory and adept employment of smart bidding techniques, maximizing the effectiveness of your campaigns. We harness the full potential of Google's latest product offering including Performance Max, Discovery Ads and more. With seamless integration into Google Analytics, facilitated by our GA Certified Team, you can delve into insightful data-driven insights. Amplify your campaigns further with the advanced capabilities of our proprietary AdGen technology.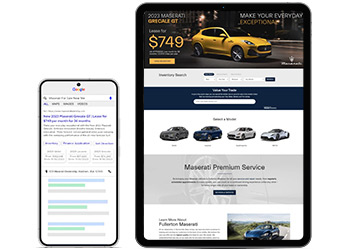 ---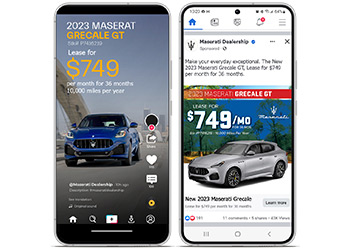 Social Advertising
Our Social Advertising transforms dealers' sales by enhancing brand recall, attracting low-funnel traffic, and boosting leads. Leveraging Social Media Advertising, your Maserati dealership can tap into wider audiences earlier, potentially outreaching competitors, and boosting conversions. Our strategies ensure prime ad placement on Facebook, Instagram, LinkedIN, Messenger, and TikTok, targeting individuals at their most relevant moments.
---
Search Engine Optimization (SEO)
Navigating the intricacies of crafting an effective SEO Strategy in the automotive industry demands seasoned expertise, a realm in which we've excelled for over 15 years. Our SEO experts meticulously conduct comprehensive audits of on-page and off-page optimization, tailored for every major search engine. Employing our proprietary Ad Gen software, we masterfully optimize hundreds of phrases spanning various automotive search categories, catapulting our dealers to Google page one. With our holistic approach encompassing Technical SEO, Local SEO, Defensive SEO, Content SEO, and Conversational SEO, your Maserati dealership will dominate the search engines!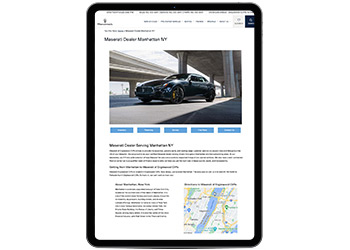 ---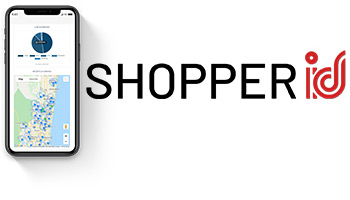 ShopperID®
Unlock the untapped potential in the automotive market, where a staggering 95% of shoppers remain unengaged after browsing. Prepare to transform your approach with our game-changing solution – ShopperID®, the Audience Identification Platform. ShopperID empowers you to meticulously identify and cultivate audiences from your website visitors. Effortlessly re-engage those who slipped through the cracks with tailored offers, mobile-optimized tools, and dynamic emails, ensuring no lead is left unconverted.
Imagine seamlessly funneling qualified leads, complete with verified cell numbers, directly into your CRM from anonymous traffic. Convert dormant website visits into a goldmine of first-party audience data. It's time to embrace the future of automotive sales with ShopperID® – your strategic edge in capturing the elusive 95%.
---
Social Media & Reputation Management
Elevate your brand's social presence through our all-inclusive services. Social Media Management will craft unique and engaging content. Our expertise spans major platforms, optimizing profiles, and driving consumer engagement.
If you need reputation management, we've got you covered. Our real-time alerts encompass over 15 sites, ensuring you're always in the know about what's being said about your brand. Leverage the power of our Review Stream and mobile app to proactively solicit manual reviews, bolstering your online credibility. With a customized reporting setup and actionable plan, you can effectively track and enhance your reputation. We manage responses across top review sites, addressing both positive and negative feedback, and ensuring all queries on Google Q&A are promptly addressed.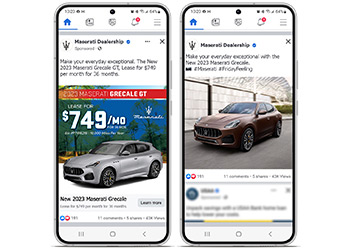 ---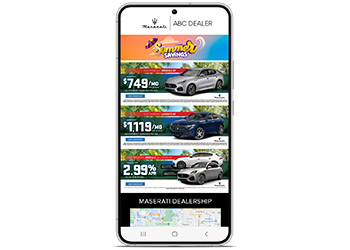 Email Marketing
CF Search Marketing's Email Marketing Services are a strategic gateway to conquest the competition. We craft compelling Maserati campaigns that resonate with your audience, ensuring your message is delivered with impact. Experience the power of push notifications, capturing attention in real-time and driving engagement to new heights. What's more, our email campaigns are amplified by match backs, leveraging your dealer-provided Database information to provide you with true ROI.
---
Web Care
Creation of website specials graphics for the homepage sliders as well as parts and service coupons and specials, website management assistance, auditing, content uploads, and website optimization of CTA's throughout the website.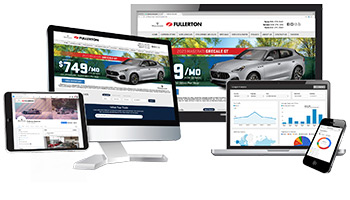 ---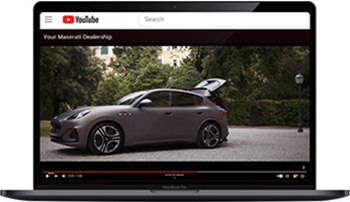 Custom Creative & Video Production
Amplify your Maserati dealership's brand and captivate your customers with our Custom Creative and Video Production services. Our expertise extends to Custom Video, Drone Footage and Radio production, bringing your vision to life with captivating visuals and resonating sound. Elevate your identity further with Custom Logos, Website Banners and eye-catching POPs that leave a lasting impression.
---
Video & Audio Advertising
Transform your automotive marketing game with our cutting-edge Video & Audio Advertising services, tailored to elevate your dealership's brand across emerging video and audio platforms such as Amazon, Hulu, Sling YouTube, Facebook, TikTok, Pandora, Spotify and many more. Our Video and audio services empower you to make a lasting impact, ensuring your Maserati brand captivates and converts across a diverse audience.